Youth Groups
Youth Groups
Fifth Avenue Synagogue has a dynamic youth program that meets on Shabbat and Jewish Holidays! Join us!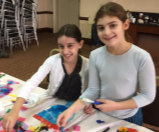 Youth Group Leadership
Rivkah Halpert - Director, Junior Congregation, rivkahhalpert@hotmail.com
Rivkah Halpert is the Junior Congregation Director for ages 1-4. Join us every Shabbat and Holiday. The children are introduced to basic teffilot and alef-bet, food, games , activities and fun!
Tue, September 17 2019
17 Elul 5779
FRIDAY, SEPTEMBER 20
Shacharit: 7:30 AM
Candle Lighting: 6:38 PM
Mincha: 6:45 PM
SHABBAT, SEPTEMBER 21
PARSHAT KI SAVO
Shacharit: 9:00 AM
Mincha: 6:20 PM
Shabbat Ends: 7:37 PM
First Selichot: 10:00 PM
SUPPORT THE DAILY MINYAN
Shacharit Weekdays: 7:30 AM
Shacharit Sundays & Holidays: 8:30 AM
Mincha/Ma'ariv THIS Sun-Thurs:
6:50 PM
CHODESH ELUL SHOFAR
The month of Elul is the month of teshuva- repentance for our misdeeds and mistakes.In concordance with this theme, our Sages instituted the blowing of the Shofar every morning at the end of services, other than Shabbat. Please be sure to join us for our weekday morning and evening services.
bulletins and resources
The Eruv is up this Shabbat. The Manhattan Eruv is a mehadrin eruv that is supervised and checked weekly by the Mechon L'Hoyroa of Monsey. For more information, please contact Rabbi Moshe Tauber at (845) 659-8777 or the Chairmen of the Manhattan Eruv committee, Rabbi Yosi Levine ylevine@jewishcenter.org or
Tue, September 17 2019 17 Elul 5779