Youth Groups
Youth Groups
Fifth Avenue Synagogue has a dynamic youth program that meets on Shabbat and Jewish Holidays! Join us!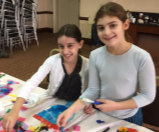 Youth Group Leadership
Rivkah Halpert - Director, Junior Congregation, rivkahhalpert@hotmail.com
Rivkah Halpert is the Junior Congregation Director for ages 1-4. Join us every Shabbat and Holiday. The children are introduced to basic teffilot and alef-bet, food, games , activities and fun!
Emily & Ron Hirschhorn - Youth Group, ages 5 and up. fasyouth@gmail.com
Emily and Ron Hirschhorn have teamed up with Esther and Yehuda Cohn directing the Fifth Avenue Synagogue's youth department. Hailing from Queens, the Hirschhorns have years of experience working with kids. Ron received a BA in psychology from Yeshiva University and an MBA from Touro University Worldwide. Ron has worked for Yachad-NJCD, an organization that promotes inclusion of individuals with disabilities into the Jewish community, in many capacities. He served four years as the Director of its Junior division, numerous summers as head of staff in camp and travel programs, and collaborated on educational curriculums throughout elementary, middle, and high schools in the tri-state area. Ron continues to serve as a community engagement liaison for Yachad, in addition to his job in the insurance industry. Emily graduated from Barnard College, with a BA in psychology. She is currently a second-year doctoral candidate at Long Island University Post's clinical psychology program. Emily has worked with children in both informal settings such as camp and youth groups, as well as more clinical settings such as in Bellevue's adolescent psychiatric unit, and NYU Child Study Center. Emily has also been involved with Yachad NJCD, in multiple roles; she and Ron have worked together as staff members in camps, as well as on a trip to Israel with Birthright and Yachad, where they met. They are excited to continue working together at Fifth Avenue Synagogue!
Sun, September 23 2018
14 Tishrei 5779
pARsHAT HA'AZINU, september 22, 2018
Candle Lighting 6:36 p.m.
bulletins and resources
Yom Kippur Bulletin - see here
Support the daily minyan - this week Mincha/Ma'ariv is at 6:45 PM.
The Eruv is up this Shabbat. The Manhattan Eruv is a mehadrin eruv that is supervised and checked weekly by the Mechon L'Hoyroa of Monsey. For more information, please contact Rabbi Moshe Tauber at (845) 659-8777 or the Chairmen of the Manhattan Eruv committee,Rabbi Yosi Levine
Rabbi Adam Mintz
Sun, September 23 2018 14 Tishrei 5779