Youth Groups
Youth Groups
Fifth Avenue Synagogue has a dynamic youth program that meets on Shabbat and Jewish Holidays! Join us!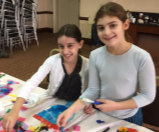 Youth Group Leadership
Rivkah Halpert - Director, Junior Congregation, rivkahhalpert@hotmail.com
Rivkah Halpert is the Junior Congregation Director for ages 1-4. Join us every Shabbat and Holiday. The children are introduced to basic teffilot and alef-bet, food, games , activities and fun!
Thu, October 17 2019
18 Tishrei 5780
SHABBAT,OCTOBER 11-12
FRIDAY, OCTOBER 11
Shacharit: 7:30 AM
Candlelighting: 6:04 PM
Mincha: 6:10 PM
SHABBAT, OCTOBER 12
PARSHAT HA'AZINU
Shacharit: 9:00 AM
Mincha: 5:45 PM
Ends: 7:02 PM
SUPPORT THE DAILY MINYAN
Shacharit Weekdays: 7:30 AM
Shacharit Sundays & Holidays: 8:30 AM
Mincha/Ma'ariv THIS Monday & Thursday:
6:15 PM
bulletins and resources
SHABBAT BULLETIN- see here
SEPTEMBER/OCTOBER 2019 BULLETIN- see here
The Eruv is up this Shabbat. The Manhattan Eruv is a mehadrin eruv that is supervised and checked weekly by the Mechon L'Hoyroa of Monsey. For more information, please contact Rabbi Moshe Tauber at (845) 659-8777 or the Chairmen of the Manhattan Eruv committee, Rabbi Yosi Levine ylevine@jewishcenter.org or
Thu, October 17 2019 18 Tishrei 5780